Active Release Techniques® in Peoria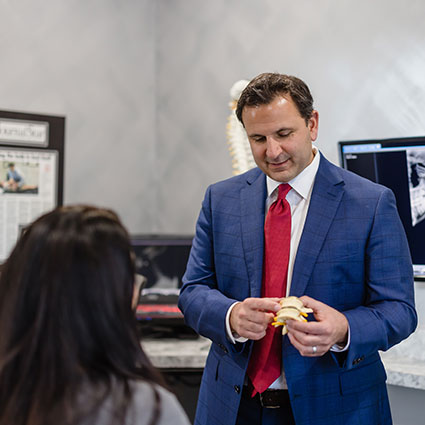 Are you looking for an effective treatment to relieve discomfort caused by a past surgery, constant strain, injuries in the workplace, or sport-induced damage? You have come to the right place! Dr. Dan is proud to provide Active Release Techniques (A.R.T.), a soft tissue management system so safe and reliable that it has been awarded a medical patent.
Help for Soft Tissue Injuries
This hands-on methodology is used to better conditions involving soft tissue, including muscles, tendons, ligaments, fascia, and trapped nerves. The central focus of A.R.T. is to provide pain relief through the correction of inhibited bodily function.
After an injury occurs, scar tissue builds up and traps nerves, often causing tendons, ligaments, and muscles to work improperly. When this happens, rather than moving smoothly, muscles carry on in a rough, rugged manner.
This is where A.R.T. specialists come into play. With their help, unnecessary scar tissue is located and broken up by placing manual pressure on the injury site while moving the muscle through a complete range of motion.
How Is A.R.T. Different From Traditional Approaches?
A.R.T. was patented by P. Michael Leahy, a chiropractic sports medicine physician. He created this method to treat muscle groups, tendons, and ligaments naturally, often without the use of medications.
Who Does A.R.T. Help?
This technique is designed for patients of all ages. Its gentle, effective approach benefits most patients no matter their age. Some of the conditions that A.R.T. can address include
Bursitis
Carpal tunnel syndrome
Frozen shoulder
Headaches
Low back pain
Plantar fasciitis
Sciatic pain
Shin splints
Tennis elbow
Is A.R.T. Right for You? Book a Consultation to Find Out!
Contact Joseph Health Group today to schedule a convenient consultation. We will get a better idea if A.R.T. is the right fit for you.
CONTACT US »

Active Release Techniques® Peoria | (309) 693-2225