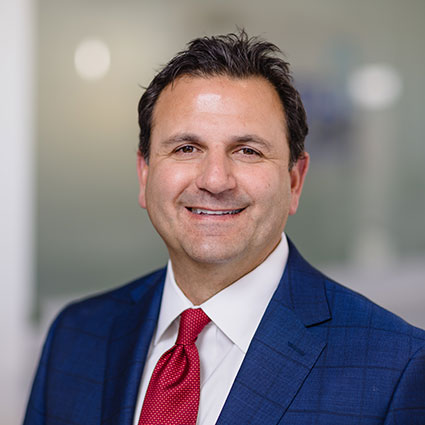 Meet Dr. Dan Joseph, Director
Finding Relief With Chiropractic
Dr. Dan's path to choosing chiropractic began in high school when a football tackle left him with a neck injury. The subsequent headaches were so intense that his grades fell, his personality changed, and his pain never lessened. His parents, increasingly concerned, took him to the family doctor, a sports medicine doctor, a neurologist, a physical therapist and even to a headache specialist at the Mayo Clinic, all to no avail.
Months later, Dr. Dan visited a chiropractor and felt instant relief. From then on, he knew he wanted to help others that were in similar situations. "I want to help people see that healing right away can be their first option instead of a last resort."
Gaining an Education in Natural Health Care
To complete his undergraduate education, Dr. Dan attended Saint Louis University and graduated magna cum laude. Then, to earn a Doctor of Chiropractic, he enrolled at Logan Chiropractic College, choosing it thanks to the top-notch instructors that worked with the Rams, Blues and Cardinals.
Dr. Dan is committed to being involved with the chiropractic profession and our local community, holding numerous affiliations and memberships:
Alumnus, Peoria's 40 Leaders Under Forty
Former ambassador, Peoria Chamber of Commerce
Member, Illinois Chiropractic Association
Member, Logan College of Chiropractic Alumni Association
Member, The Center For Living Education Program
Member, The Foundation for Wellness Professionals
Presenter, The Doctors Speakers Bureau
Former Board Member, Tri-County Chiropractic Association
A Family-Oriented Life
Dr. Dan and his wife, Kelly, were high school sweethearts. They have five children: Spencer, Christian, Maria, Molly and Katie. He enjoys spending time with his family, looking forward to walking into the house each day after a fulfilling day at work. They spend their time being active with playing soccer, T-ball, basketball and going on vacations. When Dr. Dan has free time, he likes to fish, hunt and play sports.
If you'd like to find out more about our many solutions, contact the Joseph Health Group team today! We're pleased to offer complimentary consultations.

Dr Dan Joseph • (309) 693-2225