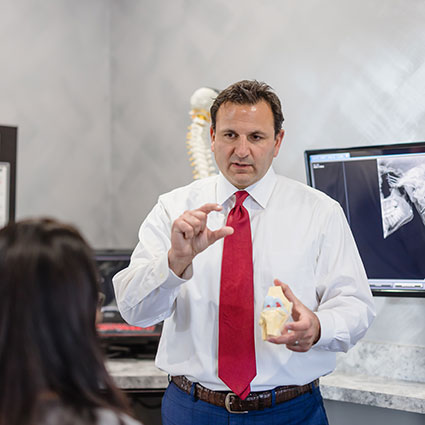 Trigger Point Injections in Peoria
If you are suffering from conditions such as fibromyalgia, low back pain, arthritis, chronic fatigue syndrome, and chronic pain, we have the solution for you. Studies have shown and Dr. Dan trusts that trigger point therapy provides significant pain relief from these debilitating ailments.
Get Pain Relief and Healing Help
These injections involve the introduction of pain relievers and anti-inflammatories into muscular spasms, knots, and adhesions in the neck, back, or extremities.
By way of a small, fine-gauge needle, an effective numbing medication (lidocaine) is injected into the muscle. The primary goal of this procedure is to deliver instant and long-lasting results.
Our trigger point injections do not involve the injection of corticosteroids and are believed to be effective by many reputable doctors.
FAQ
Do trigger point injections really work instantly?
The answer is yes! As soon as the injection takes place, the trigger point is made inactive, and prior pain subsides. To ensure long-lasting results, however, brief courses of treatment are often necessary. Additionally, several trigger points may be injected in a single visit, causing even greater immediate relief.
How often will I need injections?
The majority of patients receive an initial series of injections, which are given again two to three weeks later. Based on how you respond to the injections, Dr. Dan will let you know whether additional ones are recommended.
How much will trigger point injections cost?
Because treatment is unique to each individual person, it is difficult to know the cost of the procedure until your needs are examined. The treatment will be tailored to meet your specific needs. Rest assured, our pricing is competitive, and we strive to offer affordable rates for all.
Get the Relief You Need
Contact Joseph Health Group today to schedule an appointment and start feeling better fast!
CONTACT US »

Trigger Point Injections Peoria | (309) 693-2225